Blepharoplasty
Eyelid Surgery Experts Located On Long Island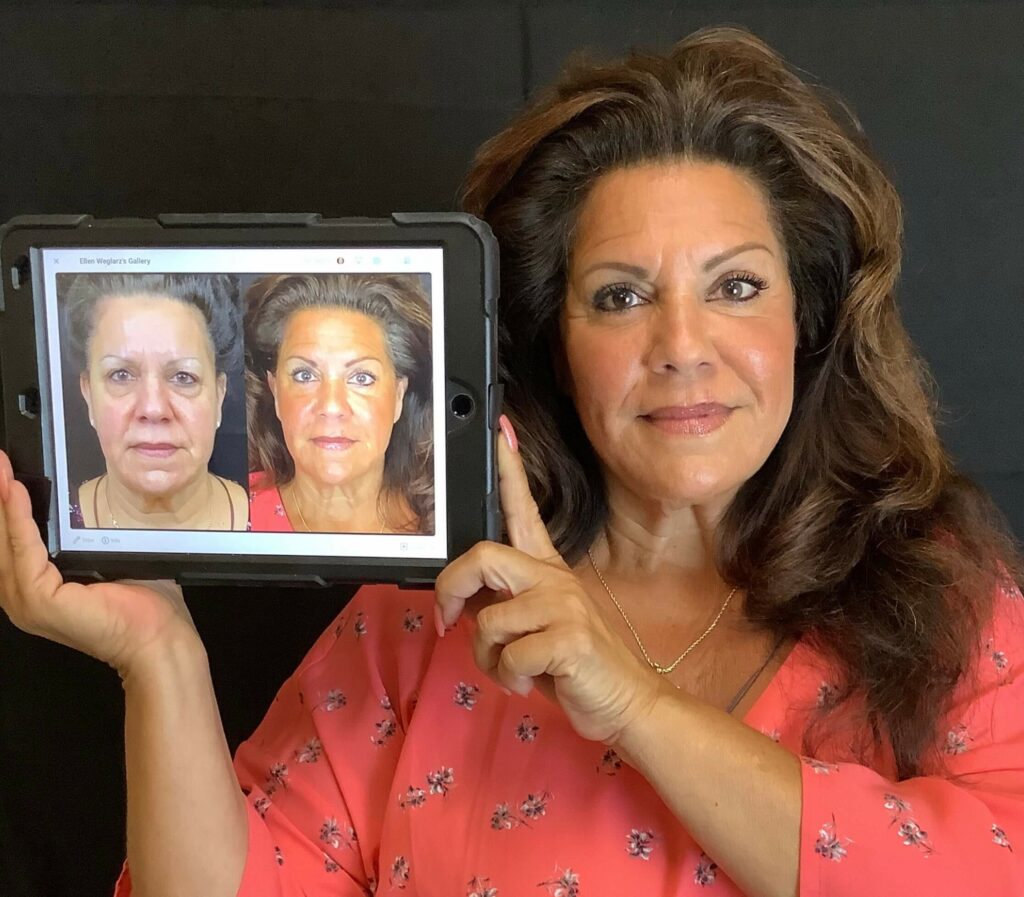 Eyelid surgery has become increasingly popular in recent years as a method of long-term facial rejuvenation. If injectables are not helping you achieve the results you want, schedule a visit to our office near Long Island to discuss the particular of eyelid rejuvenation through blepharoplasty.
What is Blepharoplasty?
Blepharoplasty is the medical term for eyelid surgery. The procedure is often performed with the objective of restoring a youthful appearance to the eyes. However, functional blepharoplasty may also be necessary in some cases, such as excess skin inhibiting vision. If you believe you or someone you love may need functional blepharoplasty, contact our office for a formal consultation. Your insurance may offer benefits for this type of procedure.
Eyelid surgery can improve the state of the upper or lower eyelids. The technical aspects of this procedure include the removal of loose, sagging skin and underlying superficial tissue such as the natural fat pads that reside beneath the skin.
Eyelid Surgery Before & After
Who is a Good Candidate for Blepharoplasty?
A thorough consultation and examination of your eyes will confirm that you are a good candidate for blepharoplasty. Ultimately, patients who have realistic expectations of what is possible for them are happiest with their results. Eyelid surgery is intended to reduce the signs of aging or loss of tissue integrity around the eyes. The results of upper eyelid blepharoplasty can also help improve vision.
Although surgery is minimally invasive and is well tolerated by people of all ages, generally, the best surgical experience comes from being in good health. Because smoking inhibits the healing process, and also affects the aging of the skin around the eyes, patients are encouraged to quit this habit prior to their surgery. If smoking resumes after blepharoplasty, the longevity of results will most likely be shorter than expected.
4 Reasons to Consider Eyelid Surgery
Upper vs. Lower Eyelid Surgery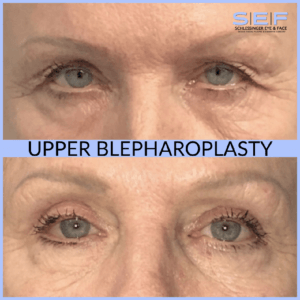 Upper blepharoplasty removes excess skin and tissue from the upper eyelid. This procedure does not lift the eyebrows, but it has a dramatic effect on the appearance of the eyes by revealing the tissue below the crease of the eyelid. Skin is also smoother after surgery, allowing the eyes to appear more open and energetic. We frequently combine our upper blepharoplasty with surgical and non-surgical brow lifting to give the most natural and satisfying result.
Lower blepharoplasty may be combined with upper eyelid surgery or performed independently. This procedure addresses concerns such as undereye puffiness, dark circles, and festoons. Lower blepharoplasty can also tighten the tissue that has begun to sag and pull away from the surface of the eye.
What Should I Expect during recovery from a Blepharoplasty?
Blepharoplasty is a safe and efficient procedure that is performed routinely in our country. That being said, it is crucial to follow the post-surgical instructions that have been given to you. If you have any questions after you return home or in the first days or weeks of recovery, please do not hesitate to contact our office.
Initially, you may feel quite fatigued after eyelid surgery. It may take several hours for your sedative or anesthesia to wear off. During this time and possibly for a few days after your surgery, it is beneficial to rest as much as you can.
Pain during recovery
Pain is very rare after Blepharoplasty surgery and people rarely need anything more than over-the-counter acetaminophen. In some cases, prescription pain medication may be prescribed. Keep in mind that some narcotic pain medications can be constipating. To make your recovery process more comfortable, take prescription medication sparingly. Cold compresses may also be gently applied to the eyes, following the guidelines provided by our office. All patients are given explicit details explaining post-operative instructions to ensure a speedy and effective recovery. If the post-operative instructions are not followed, it can affect the results of the surgery.
Swelling, redness, and bruising should be expected after blepharoplasty. The eyes may ooze slightly for a short time, as well. As a result of ointment applied to the skin around the eyes, vision may appear slightly blurry for a short time.
Does Eyelid Surgery Get Rid of Crow's Feet?
Blepharoplasty eyelid surgery can be combined with a facelift, browlift or BOTOX® treatments to raise the eyebrows or reduce the appearance of wrinkles, crow's feet or dark circles under the eyes. Laser resurfacing is frequently combined with surgery to further help reduce the signs of crow's feet. Although a degree of wrinkle-reduction occurs as a result of tissue excision during blepharoplasty, minor lines and wrinkles may remain.
When Will My blepharoplasty results Be Visible?
Presentable results from blepharoplasty typically occur between 7 and 14 days after surgery. This is normally when patients return to work and social engagements. Healing continues for several more weeks and, as it does, final results become increasingly evident. Complete and total healing may take up to one year.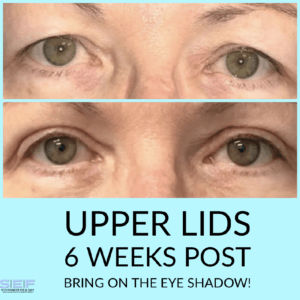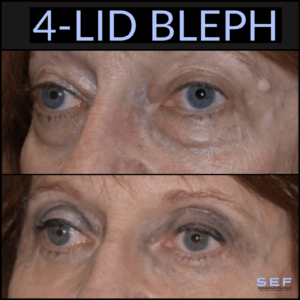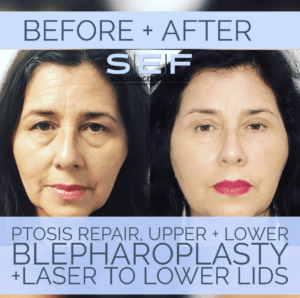 What Our Patients Say:
It has been 7 weeks since Dr. Schlessinger did blepharoplasty on my upper eyelids. All my bruising is just about gone. I looked like I went a few rounds with Mike Tyson. After 7 weeks I can say it was definitely worth having the procedure done by Dr Schlessinger, who is an expert in his field. I can see so much better. I have eyelids now! I recommend Dr Schlessinger highly.. I went for 3 consultations before being recommended to Dr. Schlessinger. All 3 left me feeling uneasy and told me I might need the surgery over again because they couldn't guarantee my eyes would be symmetrical. WHAT!! I was so upset I looked on social media and found someone who use to work for Dr. Schlessinger. She told me he was amazing. I made my appointment the next day and booked my surgery. I must say that person was so right! I am so thankful I reached out to social media and found Dr. Schlessinger. I would highly recommend Dr Schlessinger and his wonder.

Joanie M.
Are Blepharoplasty Results Permanent?
The improvements made with eyelid surgery are long-lasting. While natural aging will occur, results can be prolonged with healthy lifestyle habits and good sun protection.
Will scarring be visible?
Incisions for blepharoplasty are made in discreet areas in order to minimize the chances of visible scarring. Upper blepharoplasty is often conducted through a tiny incision at the crease of the lid. Lower blepharoplasty is frequently performed through internal incisions and sutures which are either not visible or not used. If skin removal is needed then the incisions are normally made at the lash line, sometimes just inside the eyelid, in order to minimize any evidence of surgery. These lines typically are not visible within weeks of surgery.
Schedule a Consultation
Rejuvenate your eyes with blepharoplasty. To schedule a consultation at our Woodbury, NY office, call 516-496-2122.