Laser Skin Resurfacing
MiXto SX® Fractional Resurfacing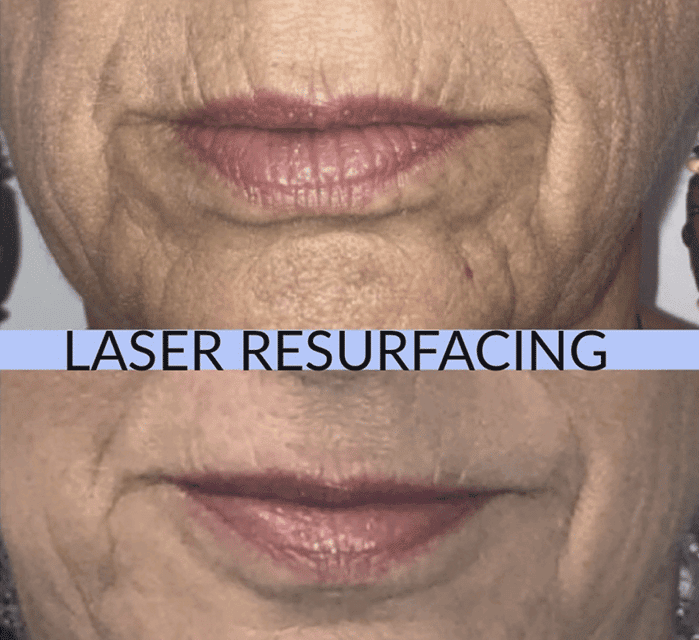 At Schlessinger Eye & Face, we're proud to add a new skin resurfacing option to our procedures — MiXto SX® Fractional CO2 Laser Resurfacing. This new technology combines the effectiveness of CO2 laser resurfacing with fractional resurfacing. It delivers instant results in just a single treatment and these results continue to build for up to 12 weeks.
What is MiXto SX Fractional Resurfacing?
MiXto stands for a "mixture of CO2 resurfacing and fractional resurfacing." Carbon dioxide laser ablation has been used successfully for 25 years to treat wrinkles, acne scarring, uneven pigmentation, and overly large pores. The CO2 energy in these procedures would vaporize the superficial layers of the skin, improving the skin. But these pure CO2 lasers required some recovery time, as the skin would crust over as it healed.
The MiXto SX® system doesn't remove the entire surface, instead removing "fractional" areas of the skin through hundreds of microscopic channels through the epidermis down into the dermis layer. This instantly tightens the skin and also triggers a wound response where the body builds new supplies of collagen to heal the perceived wounds. But it doesn't require lengthy recovery times.
How does MiXto resurfacing work?
The MiXto SX® laser allows a good deal of control over the depth of penetration and the amount of heat delivered with each pulse of laser energy. The system's high-speed scanner uses an algorithm to divide the treatment area into four quadrants. The laser delivers short pulses over one quadrant and then it skips to another. By skipping back and forth between the four different quadrants means that each pulse to a certain quadrant is separated by the longest interval possible. Dividing the energy delivery this way allows the maximum cooling of the tissue between pulses. This means less pain, and thoroughly less recovery time compared with past CO2 resurfacing or even other types of fractional resurfacing. The MiXto SX® laser delivers uniform tissue ablation to the dermis (the skin's second layer), causing immediate contraction and tissue tightening. After that, the collagen production builds for the secondary effect.
View Results from Laser Skin Resurfacing in Long Island NY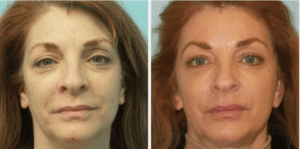 Who is a good candidate for MiXto SX® Fractional Resurfacing?
This fractional resurfacing at Schlessinger Eye & Face is great for three groups: younger patients with severe acne scarring; middle-aged patients with wrinkles and age spots; and older patients with wrinkles, sagging, skin, age spots, and actinic keratoses.
How many MiXto treatments are required?
Another great thing about the MiXto SX® is that patients see significant improvement with a single treatment. For deeper wrinkles, creases, and acne scarring, two or more treatments may be necessary.
Where can I have MiXto resurfacing done?
At Schlessinger Eye & Face, we are using MiXto SX® on these areas:
• Face
• Neck
• Décolletage
• Arms
• Backs of the hands
How long are MiXto SX treatments?
These treatments generally take about 30 minutes. We've been finding that a single MiXto SX® treatment is accomplishing what other fractional procedures needed three treatments to do, all with less discomfort and downtime.
What is recovery like after MiXto SX®?
Most patients can return to work the next day, but this depends on the individual. After your session, your skin will be red and will feel as if you have a moderate sunburn. You will have some slight swelling. There will be some light peeling in the next three days and the skin will feel tight, but that's about it.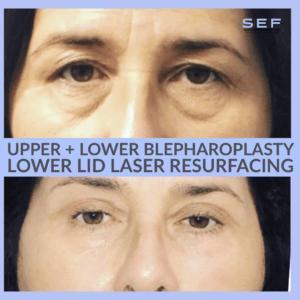 When will I see the results?
You will see immediate skin tightening after a MiXto SX® treatment. Skin quality will improve as the skin peels over the next few days. This is the initial phase of tightening and improvement. From there, collagen production will further continue to improve the skin for the next three months.
To learn more about MiXto SX Fractional Resurfacing call us at 516-496-2122 or contact us to schedule an appointment.
Secret RF Microneedling
Another new treatment we offer at Schlessinger Eye & Face is Secret RF Microneedling. This innovative combination of Microneedling and radiofrequency energy delivery improves aging skin, the appearance of fine lines and wrinkles, acne scarring, and other texture issues without any downtime.
What is Secret RF Microneedling?
Secret RF is a great new treatment that combines proven skin improvement delivered by Microneedling with radiofrequency energy delivered into the dermis, initiating increased collagen production and collagen remodeling. This is a combination of two procedures into one.
How is Secret RF Microneedling done?
The key to Secret RF is the two handpieces included with the Cutera system — a 64-pin handpiece and a 25-pin handpiece. The 64-pin handpiece covers the largest treatment area available, ideal for the face, neck, chest, and other areas of the body. The 25-pin handpiece is ideal for smaller, more delicate areas.
We can adjust the depth of the microneedles from 0.5mm to 3.5mm, depending on your skin problems. We then pass the Secret RF handpiece across the treatment area. The microneedles move up and down, penetrating the epidermis down into the skin's second layer, the dermis. At the same time, the insulated needle tips deliver radiofrequency energy directly into the dermis. This keeps the surface skin from being damaged by the RF energy, as can happen when the RF energy has to penetrate from outside in other skin tightening procedures.
How does Secret RF improve my skin?
By combining two procedures into one, and delivering the RF energy directly under the skin (rather than through the epidermis), Secret RF creates two levels of skin improvement.
First, Microneedling creates hundreds of microscopic punctures in the epidermis down into the dermis. The punctures are so small they heal within just a few hours. The body, however, believes it has been wounded with all of these tiny incursions into the dermis layer. It initiates a healing response in the skin. First, the skin actively remodels the existing collagen, instantly tightening the skin. Then it signals to increase production of collagen, the protein in the skin responsible for the skin's underlying support structure. It also increases elastin production, which helps the skin with elasticity and suppleness. The end result is that the skin firms, creates new cells, helps to break down existing scars and large pores, and then sends supplies of new collagen and elastin to the area.
Second, Secret RF delivers radiofrequency energy directly into the dermis. When the RF energy enters the dermis, it converts to heat energy. When the body senses heat in the dermis layer, it assumes there has been a wound. It immediately remodels the existing collagen in the area, tightening the skin. And then it gets busy "healing" the perceived wounds with new collagen and skin cells.
This combination works to improve the skin without downtime.
How many Secret RF treatments will I need and when will I see results?
These treatments only take around 20 minutes. We've found three to four Secret RF treatments to be optimal to provide the results most patients seek. These are spaced four to six weeks apart. You'll notice some tightening immediately, but you'll really see changes as your collagen builds. This will begin after your second treatment and results will continue to build for three months after your last treatment.
Clear + Brilliant
Even if you always wear sunscreen and try your best to take care of your skin, you still wonder if you could be doing something else to forestall the inevitable effects of aging on your facial skin. The answer is Clear + Brilliant laser treatments. We offer Clear + Brilliant at Schlessinger Eye & Face as a proactive way to care for your face.
What is Clear + Brilliant?
In contrast to more aggressive Fraxel laser treatments, Clear + Brilliant is a gentle laser that refreshes the skin from within. The laser energy is directed at target areas on the face where the laser energy creates thousands of microscopic holes in the upper layers of the skin. The body reacts to these perceived injuries by replacing the damaged skin with new, younger-looking tissue.
Clear + Brilliant addresses an unmet need in skin care, lying somewhere between over-the-counter or spa treatments and more aggressive treatments such as Fraxel.
With Clear + Brilliant there is no downtime, and the best results are achieved after four treatments spaced one week apart.
When is Clear + Brilliant right for you?
Clear + Brilliant is designed as a preventative sort of procedure, intended to head off many of the issues with facial aging before they show themselves. It is designed for younger patients who are looking to take control of the aging process. These are the characteristics of a good candidate for Clear + Brilliant:
You already have a skin care regimen that protects your skin from the sun and the environment.
You like the way your skin looks today, and are seeking to keep it looking that way for years, fending off premature aging.
You want to boost the results of what you are currently doing for your skin.
You don't have the time (and aren't really a good candidate) for aggressive skin resurfacing.
How long is a Clear + Brilliant treatment?
These treatments only take around 20 minutes.
How many Clear + Brilliant treatments will I need?
This is variable by the patient, but we've found that our Schlessinger Eye & Face patients enjoy what they see after 4-6 treatments. From there, Clear + Brilliant can be a maintenance treatment to help delay facial aging.