Face masks and renewed obsession with eyes!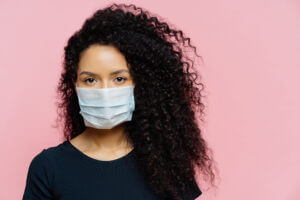 Wearing a mask to work, school, the grocery store and everywhere in between has become the new normal as people try to prevent the spread of COVID-19. With regular mask-wearing, more attention is being placed on the appearance of the eyes. Treatments and procedures to refresh and rejuvenate the eye area have been popular for some time, but these services are growing in demand. Read on to learn about ways to rejuvenate the eye area and give you more confidence in your appearance.
Botox
Botox is the most popular non-surgical cosmetic treatment in the world and has become a household name. It's FDA-approved to temporarily improve the appearance of moderate to severe frown lines (the "11" lines between the brows), crow's feet around the eyes and forehead lines.
Botox works by reducing the muscle activity that causes wrinkles to form in the skin above. Treatment only takes 10-15 minutes, requires no recovery time, and you will see results in just a few days. Results last for about 3-6 months, and repeat treatments are necessary to maintain results.
Browlift using Botox
One of the most requested lunch-time procedures is the "Schlessinger Arch," which is a non-surgical browlift using Botox. It creates an eyebrow arch that diminishes forehead lines while preserving natural expression. The results last between three to six months.
Eyelid surgery
If you have tired-looking eyes, you may be considering options that are a little more permanent. Also called blepharoplasty, eyelid surgery is a procedure that's popular because it can dramatically improve the appearance of the eyes with hidden scars. This outpatient procedure that can take 1-2 hours and is performed on your upper eyelids, lower eyelids or both. Excess fat is removed or repositioned during surgery. Lax muscles are tightened and excess skin is trimmed away. While eyelid surgery is considered cosmetic, functional blepharoplasty may be necessary on the upper eyelids if you have excess skin that's impairing vision.
If you're interested in learning more about the ways you can refresh the appearance of your eyes, schedule a consultation by calling 516-496-2122 today.
---