Neuro Toxins + Botox – Lets Break 'em Down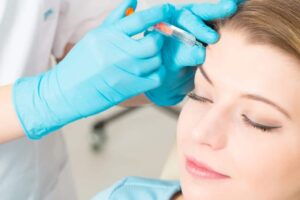 How do Botox Neuro Toxin injections work?
After the age of 30, most men and women slowly begin to lose their natural stores of collagen and elastin. These elements in the skin are what provide patients with their tight, supple, and youthful appearance. With the loss of collagen and elastin as a normal part of aging, patients notice the development of fine lines, wrinkles, and folds on the face due to skin laxity.
Fortunately, we here at Schlessinger Eye & Face provide patients with a solution: Botox (or other neuro-toxin) injections.
What is A Neuro Toxin?
Many patients have heard of the brand Botox but may not be quite sure what it is and how it works. Neuro Toxins such as Botox are classified as a neuromodulators. Neuromodulators work by reducing muscle contractions where injected. When Dr. Schlessinger injects into specific muscles of the face and other areas, it can provide a smooth result, reducing and sometimes eliminating problematic wrinkles and folds. We also use Neuro Toxins to relieve chronic muscle spasms.
Where is Botox used?
Botox is best used on the upper third area of the face for the treatment of crow's feet, glabellar lines, and forehead folds. Additionally, some doctors use Botox for other off-label uses. This medication has been available for decades and has other medical utilization. In fact, Botox is sometimes used for the treatment of chronic headaches and migraines as well as overactive bladder.
Who is a candidate?
Most adult patients who are experiencing the signs of aging due to collagen and elastin loss, as well as tightening of the muscles, may benefit from Botox injections. To be sure, it is best that a patient contacts Dr. Schlessinger for an initial evaluation and consultation to ensure you are an appropriate candidate for this course of treatment. For patients who are not appropriate candidates, we can suggest alternate options. Patients with more severe wrinkles and folds may be better candidates for plastic surgery, and our team can provide a reliable determination for these individuals.
Interested in learning more?
Contact Us! The team at Schlessinger Eye & Face in Woodbury, is ready to take your calls to discuss options for all sorts of anti-aging treatments. We are available by calling (516) 496-2122 to schedule a consultation. Our practice is conveniently located at 75 Froehlich Farm Boulevard in Woodbury, NY and is currently accepting new patients.
---