Facial Fillers: What to Know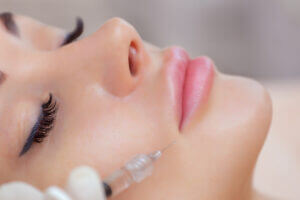 Facial fillers are not one-size-fits-all. However, we find that that's a good thing. Everyone has different goals and areas they'd like to target and there's likely a filler for that. Here's a look at some basics about facial fillers and how they differ from neurotoxins. Of course, we'd love to discuss your goals and options further in person at a consultation, but this might give you a good look at the possibilities.
Facial fillers | not the same as neurotoxins!
First things first, facial fillers are not the same thing as neurotoxins. Neurotoxins are injectables like Botox. Neurotoxins are the ones that you might think of first that seemingly "freeze" muscles to reduce the appearance of wrinkles while fillers, as their name implies, fill the wrinkles. Most popular fillers nowadays, like Restylane and Juvederm are made from hyaluronic acid. Hyaluronic acid helps your skin to look plump and hydrated. While it can be used topically for moisturizing purposes, unless it's injected you won't see a difference in volume. A great thing about hyaluronic acid is that it's a natural component of your skin that diminishes as you age.
Good filler should not be noticeable
You may feel like fillers are unnatural looking and create "trout pout" or duck lip-like results. That simply is not true. When fillers are injected by an experienced expert, they can look extremely natural and subtle. Our goal is to make it look at natural as possible.
Who does your fillers is actually Really important
Going along with the previous point, who does your fillers is really important. The process of injection is actually more like an art, it's important to find someone whose work you like. Dr. Schlessinger has years of experience and will provide expert results. Take a look at before and after pictures to see if you think his expertise is what you're looking for. We'd be happy to discuss our technique and philosophy with you during your consultation.
We hope this brief overview at fillers has helped answer a few questions you may have. If you're curious about fillers or any other cosmetic procedure we offer, call us at 516-496-2122 to set up an in-person or virtual consultation.
---