Turn back time with a non-surgical facelift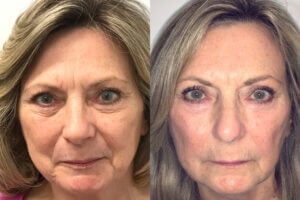 Many patients want to improve the appearance of their face but don't want to go under the knife for a facelift. A non-invasive treatment called Ultherapy is an alternative to surgery that lifts and tightens loose skin to give you the youthful appearance you desire. Read on for seven things you should know about Ultherapy. 
Ultherapy is FDA-approved for lifting the skin on the chin, brow, neck and chest.
It uses focused ultrasound to lift and tighten loose skin over time. Focused ultrasound stimulates the growth of new collagen deep within the skin. As new collagen is produced, results become more apparent, with full results in six months.
The procedure usually takes no more than one hour, and doesn't require any downtime. The face and neck area take about 60-90 minutes, while the chest area can take around 30 minutes.
Patients may experience some discomfort during the treatment as the ultrasound energy is delivered under the skin. They often return to their regular activities after their appointment. Medication can be used to minimize any discomfort after treatment.
Good candidates for this treatment are patients often 30 years and older who have skin with some degree of laxity. They may have lowered eyebrows or sagging skin on the eyelids. Patients who have loose skin on the neck and under the chin may be good candidates.
You may see some initial results, but usually it takes 2-3 months to see results as your body produces collagen. Results last for more than a year, but your skin will continue to age. You may need touch-up treatments to maintain results.
Ultherapy is not a replacement for a surgical facelift but is a good alternative for patients who aren't ready for surgery or for younger patients who want to do preventative care. Other patients turn to this treatment to prolong the effects of previous cosmetic surgery.
If you are interested in learning more about Ultherapy and other procedures to help you rejuvenate your appearance, schedule a consultation by calling 516-496-2122 today.
---