Target Deeper Layers of the Skin with Morpheus8 Microneedling
If you want to achieve a younger-looking appearance, a face or neck lift is no longer your only option. Morpheus8 Microneedling is a non-surgical treatment that can significantly improve the texture and firmness of your skin.
Morpheus8 has more to offer than other needling treatments. For example, it uses a combination of technologies, targets different layers of the skin, uses a variety of needles, is more comfortable, and offers a shorter downtime.
This state-of-the-art technology goes deeper for dramatic, lasting results.
What Is Morpheus8 Microneedling?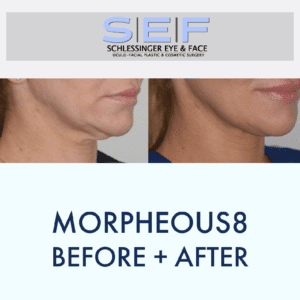 If you're tired of lackluster skin or want to step up your skin care game, treatment with Morpheus8 is an excellent option. Morpheus8 is not your average Microneedling treatment.
Its combination of Microneedling and radiofrequency energy heats up the deeper layers of your skin to give you the most bang for your buck. This unique combo is like a one-two punch to your skin concerns, resulting in collagen remodeling and tissue tightening.
However, that's not all. Morpheus8 also allows for a more targeted treatment by reaching different layers of your skin. It's like having a personalized treatment just for you, no more generic one-size-fits-all approach.
Morpheus8 Microneedling is the new way to transform your skin, without requiring any surgery. Plus, you won't have to take time off for recovery. Morpheus8 has a shorter downtime than other, more invasive treatments.
How Does Morpheus8 Treatment Work?
As you age, your skin loses elasticity because your body produces less collagen, an essential protein that allows the skin to stretch and retain its structure. Safe and FDA-approved, this treatment stimulates collagen production and tightens your skin.
Besides making your skin firmer, this treatment can also remove excess fat. Morpheus8 is a minimally invasive procedure that is conveniently performed right here in our office.
State-of-the-Art Technology of the Morpheus8
Morpheus8 is a state-of-the-art treatment that combines the best of both worlds, utilizing Microneedling and radiofrequency energy to heat the deeper layers of the skin and target different layers of the skin. This process can lead to collagen remodeling and tissue tightening.
Here are some of the many reasons why the Morpheus8 is unique and state-of-the-art:
Combination of Technologies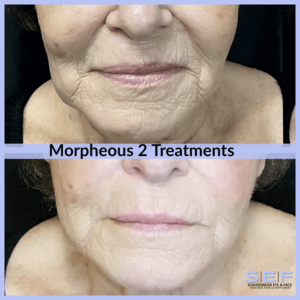 Morpheus8 uses a combination of Microneedling and radiofrequency energy to heat the deeper layers of the skin. The unique combination of technologies allows the treatment to be more effective than Microneedling alone by promoting collagen remodeling and tissue tightening.
Targeting Different Layers of Skin
Morpheus8 can target different layers of the skin, from the epidermis to the subcutaneous fat, which allows for a more precise and customized treatment.
Variety of Needles
Morpheus8 is equipped with various treatment tips and needles, allowing for a more versatile treatment approach. It can treat areas that are harder to reach, such as the jawline, neck, and under the eyes.
More Comfortable
Morpheus8 is designed to be more comfortable. Thanks to the device's cooling system, the procedure is much more comfortable than other Microneedling treatments.
Shorter Downtime
Morpheus8 is a non-surgical procedure with less downtime compared to other, more invasive procedures such as a facelift.
What Happens During Morpheus8 Treatment?
The technology of morpheus8 works by applying tiny needles to specific areas of skin. As it heats your skin tissue, the treatment triggers a natural healing response and the production of collagen.
It usually only takes less than an hour to complete. A topical anesthetic is applied to numb your skin so the procedure is comfortable.
Unlike there is with surgery, there's no substantial recovery needed. So you can get right back to your regular activities. We caution to avoid sun exposure during this time.
You'll likely be able to notice a change in your skin quickly. Your skin will continue to improve over the next several weeks.
Three sessions are usually recommended to achieve your desired results.
How Can Morpheus8 Microneedling Improve Your Skin?
No one is immune to the effects of time. As you age, the years show on your skin.
From wrinkles to sagging skin, this can leave you feeling less than your best. Fortunately, Morpheus8 Microneedling can make you feel confident in your skin again.
Morpheus8 can address a variety of concerns. It is most commonly used to treat lines that extend from your nose to the corners of your mouth.
Morpheus8 isn't just for your face. It can be applied throughout your body, for example, to your chest, abdomen, and neck areas.
Are you interested in upgrading your skin care game with Morpheus8? Schedule a consultation at Schlessinger Eye & Face in Woodbury, NY, today to find out if Morpheus8 Microneedling is right for you!
Let's stay in touch!
---