Will a Laser Peel Make Me Look Younger?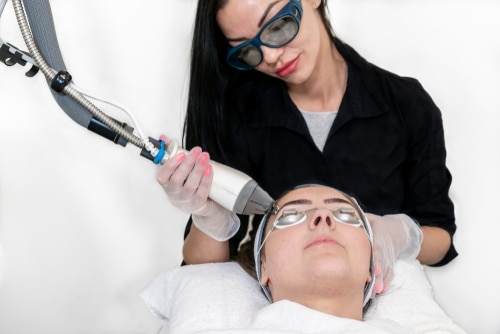 It's impossible to go through life without developing any wrinkles, scars, or fine lines on your face. Everyone looks in the mirror at one point or another and notices something about their skin they wish they could change.
It could be due to time in the sun, acne, or simply aging. You can restore how your skin looks while getting your confidence back with a laser peel. Keep reading to find out how a laser peel can make you look younger!
What Is a Laser Peel?
Also referred to as laser resurfacing, a laser peel works by carefully removing layers of your skin, one by one, to stimulate new cell formation. The skin that results is smoother and tighter.
During the procedure, brief beams of light target one section of skin at a time. If you are only concerned about one area, you could choose a partial laser peel.
If you want to target more parts of your face, a full-face laser peel may be the better option. While the laser removes the outer layer of the skin, it warms the layer underneath, which causes collagen to grow.
Collagen is the protein that gives your skin its elasticity, and it's the key to a youthful appearance. A laser peel can minimize the look of scars and wrinkles. It can also make the pigmentation in your skin more even, so no spots stand out due to discoloration.
There are two different ways of performing a laser peel: an ablative laser and a non-ablative laser. A non-ablative laser can be less invasive, but results may not be as effective. The objective of both treatments is to stimulate new collagen growth.
What Will I Look Like After a Laser Peel?
Directly following the treatment, you can expect your skin to feel sensitive, not unlike a sunburn. As your skin heals to reveal a new layer, you will begin to notice smoother, tighter skin.
Dark spots will be lightened, blending in more with the surrounding skin. After healing from a laser peel, you'll have more self-confidence when you look in the mirror.
The results can last for several years, meaning choosing to get a laser peel is something that you'll benefit from for years to come. If new wrinkles develop, you can repeat the treatment to feel like new again.
Is a Laser Peel Right for Me?
A laser peel is an excellent option for you if you have any of the following:
Wrinkles
Fine lines
Age spots
Uneven skin pigmentation
Skin damaged by the sun
Acne scars
Birthmarks
In addition, candidates should be healthy and should not have a compromised immune system that prevents healing. You should not be pregnant or breastfeeding. If you've had radiation therapy or have a history of cold sores, you may not qualify.
Those with deep wrinkles, sagging, and very dark skin may not be good candidates for a laser peel. You should also not actively have acne.
Dr. Schlessinger is happy to sit down with you to discuss whether a laser peel is a good fit for you.
Are you ready to look and feel younger? Contact Schlessinger Eye & Face in Long Island, NY, today to schedule a laser peel consultation and see if you're a good candidate!
---