Virtual Visits Now Available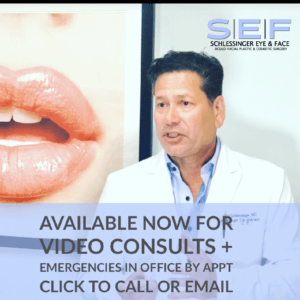 In light of all of the recent events regarding the COVID-19 Virus that affects not only those in our local community but all of us on a global level, we have taken measures to allow for our patients (and potential new patients) to connect with our office without the necessity of coming in to our physical location here in Woodbury, NY.
As we are a medical office, our work is considered "essential" and as such, we are remaining open. However, We are not seeing patients in our office unless there is an emergency and a virtual visit will not suffice.
Routine matters can be called in and discussed over the phone with a staff member or you may opt to connect with Dr. Schlessinger one-on-one. Or maybe you are a potential new patient and would like a cosmetic consultation as you consider undergoing a procedure or want to ask about a specific health issue.
If this is the case please Call our office and we will schedule your personal connection to Dr. Schlessinger via phone or HIPAA-Compliant video chat or fill out the form below. You can also DM us on Instagram or reach out via our Facebook Page.
Clickable links here
As we all deal with this pandemic and the "new (for now) normal", we mustn't forget that a sense of connection is important to all human beings. Remember, we are quarantining, but it's important that we don't completely cut off from the world. Video chat is a safe way to maintain personal connections until this crisis ends…..and end it will!
---