Tighten Up Your Skin with Subnovii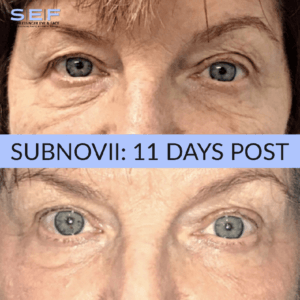 There's a new name in the skin rejuvenating game and it's Subnovii. We are proud to be the first office on Long Island to offer the Subnovii Treatment for skin tightening!
Let's go over some of the basics about Subnovii and what this revolutionary technology can do for your skin.
First things first, what is Subnovii? Subnovii is a new, non-invasive treatment that gives you surgery-like results without going under the knife. Subnovii uses plasma technology to emit energy that targets a precise spot on the surface of your skin. The wound is then immediately sealed and a shock is delivered to the tissue below to stimulate fibroblast activity.
This stimulation encourages your skin to produce collagen, elastin, and hyaluronic acid. These elements help to give your skin a younger, more rejuvenated look. The best part is, the tip of the plasma device never even touches your skin, it does this all through the power of molecular physics.
What Areas Can Subnovii Treat?
Subnovii can be used in a variety of areas including:
Upper eyelid area
Lower eyelid area
Crows feet
Forehead
Around the mouth
Nasolabial folds
Marionette area
Jawline
Tragus (ear) area
Lower neck
Scar revision
Décolletage
Acne scar revision
If there's another area that you're concerned about that isn't on the list above, let us know and we'll discuss other possible alternatives + options. We can create a treatment plan customized specifically for you during your one-on-one personal consultation, either virtually or in our Woodbury office.
What Are The Benefits of Subnovii Over Other Methods?
Subnovii has incredible precision, ensuring the treated area is laser-targeted. This is a non-invasive, non-surgical treatment and can be tolerated with numbing to the area and pronox during the procedure. There is absolutely no stitching, no scars, no cutting of the skin at all. The results are long-lasting and sometimes results can even be permanent. We cannot stop the aging process, but we can slow it down!
Who is a Good Candidate For Subnovii Treatment?
Another great thing about Subnovii is that almost any healthy adult may be a good candidate. As long as you are frustrated with how your skin looks, it can be beneficial for most skin tones and types.
If you're interested in learning more about Subnovii or would like to schedule a consultation with Dr. Dr. Schlessinger, give us a call at 516-496-2122 today!
---