Are You Using the Right Skin Care Products to Protect Your Skin from the Sun?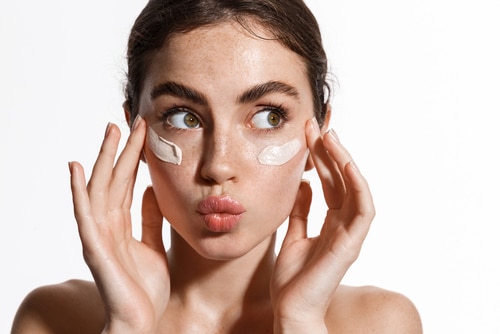 When it comes to protecting your skin from the sun, it should involve more than reaching for the nearest tube of over-the-counter sunscreen. You want to treat your skin right!
Choosing a sunblock is not only a matter of considering SPF. Keep reading to find out if you are using the best possible skin care products to protect your skin from the sun!
Why Is It Important to Protect Your Skin from the Sun?
You've probably experienced the discomfort of sunburn once or twice; however, that's only the tip of the iceberg. Long after the redness fades, repeated exposure to the sun without protective measures can seriously affect your health.
Reduced Risk of Developing Skin Cancer
The sun is a powerful source of ultraviolet light. While it may feel good to lounge around by the pool on a sunny summer day, the intense UV rays can cause all sorts of damage to your skin, such as skin cancers.
With over a million new cases a year, skin cancer is one of the most common kinds of cancer in the United States. Sunscreen provides a protective layer that stops the sun's rays from penetrating your skin.
Regularly applying sunscreen is one simple action you can take to significantly decrease your chances of developing skin cancer. The American Dermatology Association recommends an SPF of at least thirty, a level that blocks ninety-seven percent of UV rays.
Reduce Appearance of Wrinkles
Sun damage can also exacerbate signs of aging, forming wrinkles, lines, dark spots, and discoloration. Protecting your skin from the sun can keep your skin tone even and your appearance younger, but taking care of your skin doesn't end when summer vacation does.
You can be exposed to UV light even when it's cold and cloudy outside; therefore, you must protect your skin year-round. To ensure your skin is always protected, incorporate sunblock as part of your daily routine.
Do More for Your Skin with Antioxidant Moisturizing Sunscreen
With so many sunblock products to choose from, it can feel overwhelming to determine which one is best for you. Here at Schlessinger Eye and Face, we offer a range of pharmaceutical-grade skin care products made from high-quality, physician-approved ingredients that provide unbelievable results.
Our SEF Antioxidant Moisturizing Sunscreen is both oil-free and moisturizing, with a natural, clean feel and leaves no thick residue. It protects your skin from UVA and UVB rays, with an SPF of fifty plus, and is available in both tinted and clear options.
Many patients love to use it as a daily foundation when they are getting ready in the morning. That way, they know their skin will be protected, and look great, wherever their day takes them!
Take Care of Your Skin Before and After Sun Exposure
Keeping your skin healthy doesn't stop with sunscreen. Here, we offer our own Schlessinger Eye and Face line of skin care products that allow you to achieve noticeable results for a variety of effects of sun damage.
If you're experiencing dark spots or discoloration from time spent in the sun, there is something you can do. We offer a SEF Gentle Brightening Cleanser to even out your complexion while you clean and moisturize your skin.
Our SEF Restorative Skin Complex is another great option for those who are experiencing signs of aging on their face, whether from sun damage or not. After using it, your skin will feel firmer and look more youthful.
Our SEF Ultra Lite Facial Cream offers many more benefits than your standard lotion to help combat the damage from summertime exposure to chlorine to saltwater. It soothes irritation while leaving your face feeling soft and fresh!
At Schlessinger Eye & Face, we offer a wide variety of skin care products to help cleanse, protect and improve the texture and tone of your skin. Visit our products page to learn more!
Do you want to upgrade your current skin care routine or hear personalized recommendations for your skin? Schedule an appointment at Schlessinger Eye & Face in Woodbury, NY, today!
---