BlephEx For Dry Eye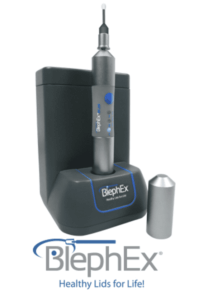 What is BlephEx®?
We are happy to offer a solution for a problem that plagues many of our patients. Dry eyes, allergies, chalazion, and styes can all now be treated and their occurrence is limited by this great new technology.
Over 50% of all patients suffer from some type of dry eye and blepharitis symptoms.
BlephEx® is a new, in-office procedure that allows our specially-trained staff to take an active role in treating dry eye and blepharitis.
BlephEx® removes excess bacteria, biofilm, and bacterial toxins, the main causes of inflammatory dry eye and lid disease.
With regular treatments, we have found that our patients can finally enjoy a life virtually free from the chronic and irritating symptoms associated with dry eye and blepharitis.
The BlephEx® treatment is well tolerated and only takes a few minutes to perform right here in our office.
Though not covered by insurance plans, BlephEx® can save our patients countless time and dollars in what it saves with visits to our office after symptoms manifest. These treatments can result in fewer emergency visits and treatments, less time away from work and family and you have the added comfort of knowing you are doing something healthy and hygienic for yourself.
Please call our office at 516-496-2122 to schedule your BlephEx® treatment.

For additional information about our services, call us at 516-496-2122 or click here to request a consultation.