Ptosis – Droopy Eyelid Treatment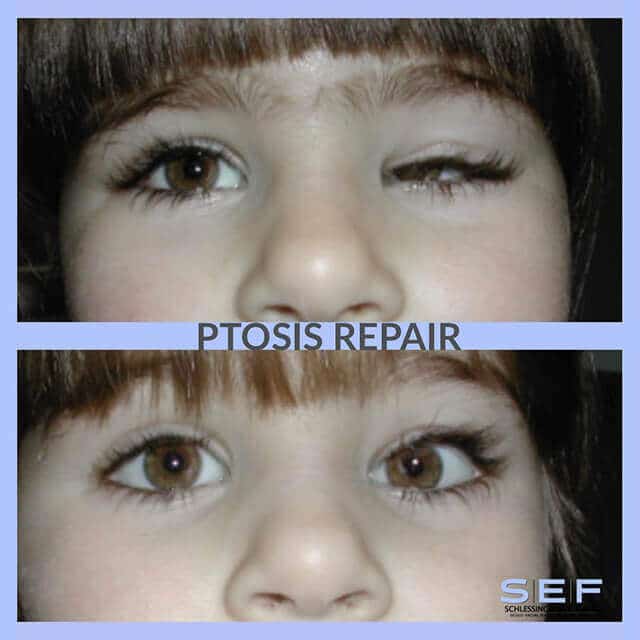 A drooping eyelid can be simply a cosmetic annoyance, or it can droop enough to impair vision. The clinical term for this is ptosis, also known as blepharoptosis. It occurs in children but is more frequent in adults as the eyelid support tissues weaken with age. Dr. Schlessinger performs eyelid surgery to correct ptosis.
What Are The Symptoms of Ptosis?
Ptosis is obvious in that the asymmetry caused by a drooping eyelid is readily apparent. The condition isn't painful. There are differences in symptoms between adults and children.
Ptosis In Children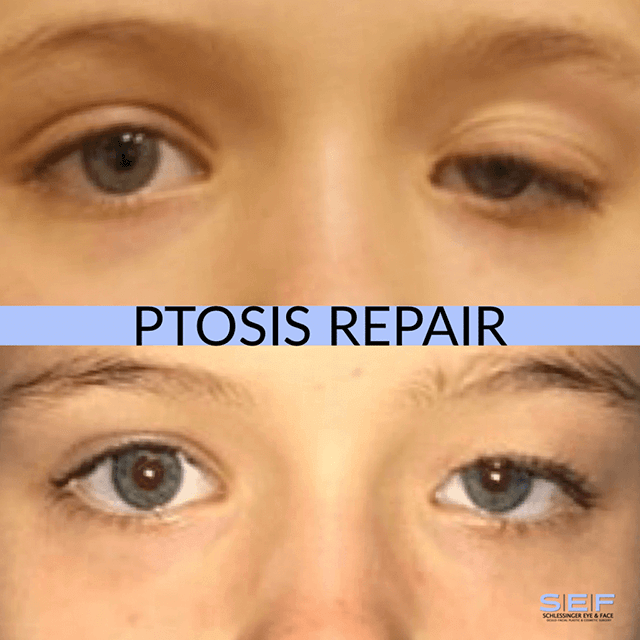 Congenital ptosis, where the child is born with the condition, is usually caused by a problem with the levator muscle that lifts the eyelid. Beyond the drooping eyelid, another symptom is when the child's upper eyelid creases don't line up evenly between both eyes. Often a child with ptosis will develop habits of tilting the head backward, lifting the chin, or forcing the eyebrows upwards to attempt to overcome the vision impairment caused by the drooping eyelid. Furthermore, In many cases, both eyelids can drop.
Ptosis In Adults
Ptosis in adults is usually caused by the weakening of eyelids. It can also cause difficulty in reading and perplexing vision.
What Causes Ptosis?
In children, ptosis is usually congenital, as mentioned above.
In adults, ptosis usually develops over time as the levator muscle stretches or separates from the eyelid. In most cases, this is due to aging, as the skin and muscles around the eyes become weaker. But ptosis can also develop following eye surgery, such as LASIK or cataract surgery. This can stretch the eyelid.
In rare cases, Ptosis can be a symptom of a more serious condition. Inflammation, tumors, and neurological disease can also cause Ptosis. It is important to have a ptosis evaluation to ensure the patient is healthy.
See What Our Patients Are Saying:
We went to see Dr. Schlessinger for surgery. The doctor and his staff are very professional, supportive and understanding. At the surgical facility the staff was very knowledgable and treated us with respect. I am very thankful to all the Anesthesiologists and to Dr. Schlessinger for making my daughter feel less anxious about the procedure. We are very happy with the outcome of the surgery. The recovery was fast and uneventful. I would highly recommend Dr. Schlessinger. -Zsofia G.
How Does Dr. Schlessinger Correct Ptosis?
Ptosis won't correct itself, so surgery is usually necessary. In children, we'll first consider age, the strength of the eyelid muscles, and other factors. Other conditions such as lazy eye may be treated first.
When surgery is appropriate, Dr. Schlessinger will usually tighten the levator muscle or he will attach the eyelid to other muscles that can help lift the eyelid.
In adults, Dr. Schlessinger may only need to make a small adjustment to the levator muscle. But if the patient has excess saggy skin, Dr. Schlessinger will perform cosmetic eyelid surgery, clinically known as blepharoplasty. This procedure removes excess skin and tightens the underlying support muscles. If the levator muscle has separated from the eyelid, it will be reattached.
What Is The Recovery Like After Surgery?
There will be some swelling and bruising around the eye and cheek area. Because the eye will now have more exposure, we will provide you with artificial to help keep it lubricated after your surgery. Your sutures will usually be removed in about one week, and most patients can return to work at that time. Bruising can last up to two weeks. Some swelling can come and go over a few weeks or sooner, but it is not dramatic.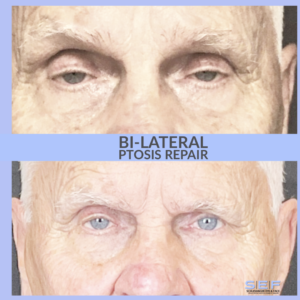 How Much Does Ptosis Surgery Cost?
The cost of this procedure with Dr. Schlessinger is variable depending on the patient. For instance, some patients require just a minor adjustment to the levator muscle. Others require full blepharoplasty, plus an adjustment to that muscle. During your consultation, we can give you a good idea of what the potential cost of your surgery will be. If the ptosis is causing visual impairments, it may be caused by health issues.
Before & After Cases of Our Ptosis Repair Procedure
Dermatochalasis:
Dermatochalasis is a common condition characterized by the presence of loose, redundant eyelid skin. It is a very common sign of aging and in general begins in middle age. Patients with severe dermatochalasis experience heaviness around the eyes, brow-aches, eyelashes in the visual field, and reduction of the superior visual field. Lower eyelid dermatochalasis is considered a cosmetic issue unless the excess skin and prolapsed fat are so extreme that the patient is unable to be fitted with bifocals. Dermatochalasis is treated surgically by a procedure called blepharoplasty.
Floppy Eyelid Syndrome:
Floppy eyelid syndrome is a condition of the eyes indicated by ocular irritation, redness, eyelash ptosis, and mild mucus discharge described as worse upon awakening. Floppy eyelid syndrome is a common cause of recurrent conjunctivitis and is frequently misdiagnosed. It is also very commonly associated with sleep apnea. When Floppy Eyelid Syndrome is diagnosed, a sleep study should be performed.

For additional information about our services, call us at 516-496-2122 or click here to request a consultation.