Trends in Cosmetic Facial Surgery
By David Schlessinger, MD
As the weather improves in the Northeast and we look forward to the summer season, we all want to look fresh and rejuvenated. We lead busy lives and most of us don't have the luxury of taking time off from our hectic schedules to recover and recuperate from invasive plastic surgery. Luckily, we now have more options than ever to achieve a youthful glow without the inconvenience of downtime.
Fill Her Up
Some of the earliest signs of aging are due to the loss of facial volume. With volume loss, cheeks and jawlines sag and lower eyelid bags become more visible. New technology in dermal fillers allows us to safely add volume in a natural way. Utilizing cannulas, we can add volume to the hollow area between the lower eyelid and cheek to eliminate the appearance of lower eyelid bags.
When administered by an expert injecting surgeon, the treatment only takes a few minutes and is done with high precision. Very often there is no bruising or swelling, and patients can get back to work or play immediately. The results can last 9-12 months or more and treatments can be repeated as necessary.
Dermal fillers can also be used in cheeks, lips, temples, and even hands to restore a youthful appearance. One surprising trend is the increased use of dermal fillers in men. Eye bags can create a tired, older appearance, which men not only find unattractive but can also affect their confidence, especially when competing with younger people in the workplace. A 15-minute treatment in the office can significantly reduce eye bags for over a year.
Botox Is Now Bro-tox
Botulinum Toxin (also known as Dysport, Xeomin, or Botox) is a staple of maintaining a youthful appearance. Utilizing a tiny needle, the toxin is injected into the muscles of the face, weakening them and causing lines to virtually disappear. Long gone are the days when we used Botox to give a frozen look devoid of facial expression. Instead, we now use Botox to soften lines and re-shape eyebrows to open up the eyelid area—resulting in a refreshed look. Botox is also being used more frequently in men to eliminate crow's feet and forehead lines, producing a refreshed and alert appearance.
Threads
One of the newest trends in minimally invasive surgery is the use of dissolving surgical threads in the face to temporarily lift cheeks and jowls. Topical numbing cream can be applied for a more comfortable experience. Surgical threads can turn back time in just a few minutes. The results are virtually immediate and last for up to a year. The threads can give a facelift-like result with minimal pain and time, and virtually no bruising.
Once the threads dissolve, they leave behind collagen that can build up in the face and helps give long lasting results. The threads can easily be repeated once the effect wears off. Threads can be done in conjunction with fillers and Botox to give a completely rejuvenated look.
RF Microneedling
Every year, facial rejuvenation technology continues to improve. We have recently started using a device called Morpheus which combines two proven technologies—Microneedling and radiofrequency. Dozens of tiny needles enter the skin almost painlessly, and then radiofrequency is used to gently heat up the skin. The combination of tiny needles and heat causes the body to create new collagen. This tightens the face, shrinks pore size, and gives the skin a fresh dewy appearance usually only seen in children and teenagers.
The treatment takes 10 minutes to perform and leaves your skin slightly red. We apply medical-grade sunblock and you can go about your day. Typically, Morpheus is repeated twice for a total of three treatments. We have seen a remarkable improvement in loose neck skin, acne scarring, and fine lines within only a matter of weeks.
Ulthera
Ulthera is a remarkable technology we have been using with great success for several years in our practice. Chances are the celebrity whose youthful face you admire has already had a treatment with Ulthera. Utilizing ultrasound waves to heat the deeper tissues of the face, Ulthera effectively creates new collagen that tightens and lifts the face. The effects are so powerful that we have markedly reduced the number of people who undergo surgical brow and facelifts.
A full treatment takes a little over an hour. Although the treatment is slightly uncomfortable, most patients tolerate it easily. There is no downtime; the results can be seen several weeks after treatment and can last two to three years. Deep treatments lift jowls, chins, and eyebrows, while more superficial treatments are more effective for fine lines and wrinkles. Ultherapy is even more effective when combined with dermal fillers to add volume, and with lasers or radiofrequency Microneedling to improve skin tone and texture.
Surgery
When minimally invasive techniques are not enough, conventional cosmetic facial surgery is still a great option. Utilizing small incisions, eyelid bags can be removed in under an hour in a private operating room with either local anesthesia or mild sedation.
The newer cosmetic facial surgery techniques strive to maintain a natural look by not overtightening and by preserving the fat in the eyelids and face. In many cases, we can take fat from your belly or thighs and carefully inject it into the face to create a very youthful, natural, and non-surgical appearance. Although surgery has more downtime than less invasive techniques, in most cases people can return to full activities in seven to 10 days.
Many of these techniques can be performed in combination to give you the best results. With so many options for rejuvenation, it is best to visit a surgeon experienced with both surgical and non-surgical techniques to determine the right fit for you.
Before & After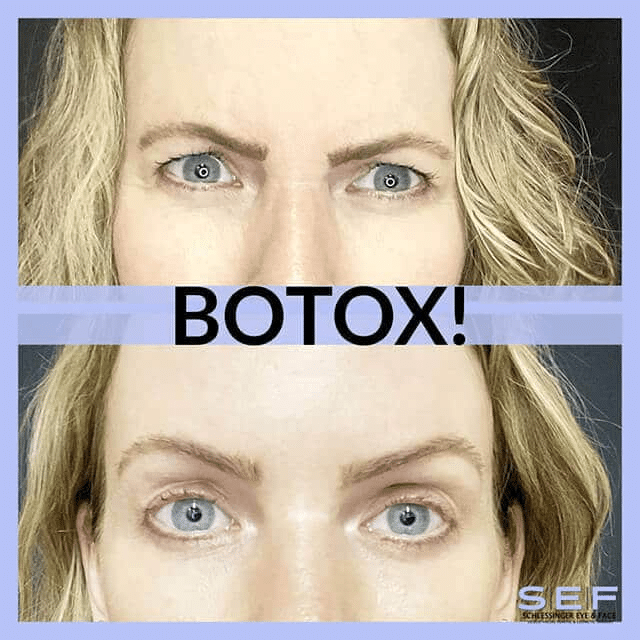 Are you already envisioning your new look? Schedule an appointment at Schlessinger Eye & Face in Woodbury, NY, today.
Let's stay in touch!
---