How Morpheus and Facetite Can Rejuvenate Your Neck and Face
When it comes to beauty, glowing skin is always in. Why not make 2023 the year you give yourself a major glow-up?
You don't have to be stuck with excess fat, wrinkles, and fine lines around your neck and face forever. Morpheus8 and Facetite are two exciting, minimally invasive treatments that can transform how you look and feel about yourself.
If you're looking for a way to rejuvenate your neck and face, you're going to love Morpheus and Facetite.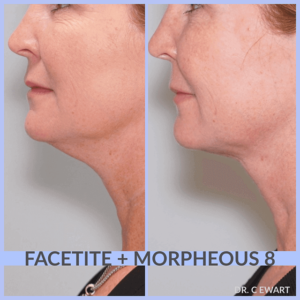 Step Into a Time Machine with Morpheus
No, we're not talking about a character from The Matrix. Everyone from Kim Kardashian to Bella Thorne have raved about their experiences with Morpheus8, an advanced needling treatment that does not require surgery.
Collagen is the secret ingredient of smooth, supple skin. Starting around your early twenties, your body begins to produce less of this small but mighty protein. That's where Morpheus8 comes in.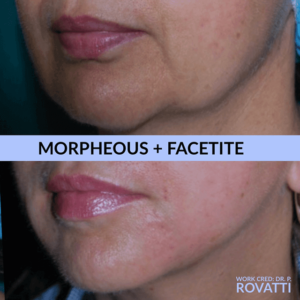 Morpheus8 triggers collagen production using tiny needles that penetrate the deep layers of your skin. Radiofrequency (RF) technology then warms this deep tissue, which stimulates increased collagen production.
The procedure typically takes only thirty minutes to an hour to complete. Thanks to a local anesthetic, discomfort is minimal.
The result is firmer skin, with reduced lines and wrinkles, that looks unbelievably younger. It's like using a time machine. In addition, Morpheus8 can address pesky acne and acne scarring, as well as stubborn stretch marks.
This treatment is excellent for your lower face and neck, but it can also be applied to areas like your chest and abdomen too.
Don't want to wait to reveal your new look? With Morpheus8, you won't have to. It offers minimal recovery time, so you'll be able to show off your results much faster than with surgery.
Contour Beautifully Toned Skin with Facetite
Many patients opt to get both Morpheus8 and Facetite for even more dramatic results. Like Morpheus8, Facetite is a non-invasive treatment. It targets excess fat and loose skin around the face, neck, and jowls.
Facetite treatment involves a special device that also utilizes heat to achieve the desired effect. A thin tube is inserted into areas of loose skin or fat deposits. The tool then applies heat to tighten the skin and melt away fat.
With Facetite, you'll go under local anesthesia, to ensure your comfort. The treatment takes about 45 minutes to complete—less than an episode of The White Lotus.
Recovery doesn't take long at all. A facial compression garment will keep the swelling down and your recovery period as short as possible. You can expect little, if any, bruising,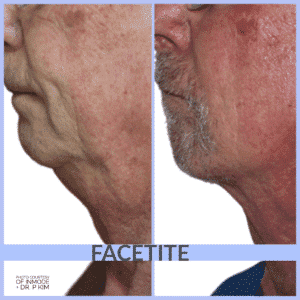 You can get back to all your normal activities within a few days. Look at it this way—it's a great reason to take a long, relaxing weekend.
You'll be able to start seeing your results in as little as one week, and your results will only continue to get better over the next few months.
True to its name, you can look forward to tighter, more youthful skin with Facetite. If you want to give your appearance a serious lift without the time and expense of a full-blown facelift, Facetite is an excellent option for you. 
Are you already envisioning your new look? Find out if you're a good candidate for Morpheus8 and Facetite by scheduling an appointment at Schlessinger Eye & Face in Woodbury, NY, today.
Let's stay in touch!
---