Microneedling
Microneedling RF (Radio Frequency)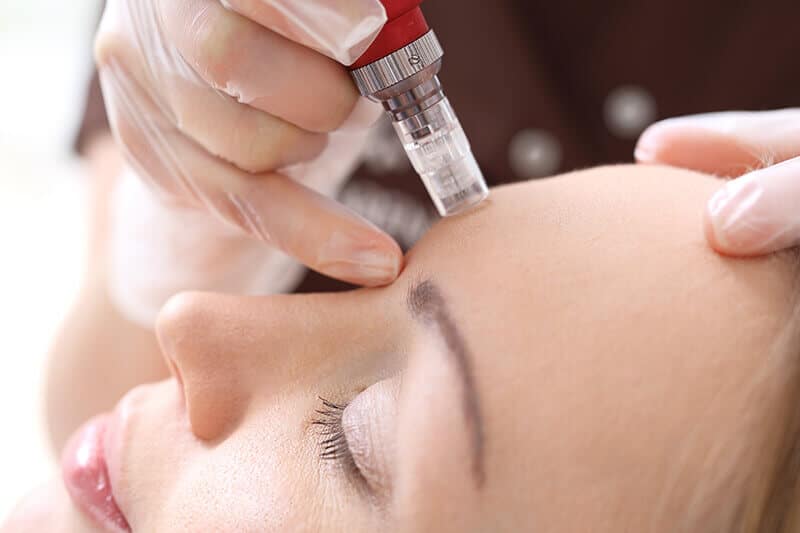 Microneedling isn't new; the concept here is to create a superficial "wound" that will trigger a healing response from the body. Microneedling was introduced with a dermaroller back in the 1950s but didn't catch on. A form of Microneedling reappeared in the 1990s using tattoo guns without ink to treat post-surgical scarring. More recent improvements, such as the handheld Microneedling pen – make today's Microneedling at Schlessinger Eye & Face a great option to improve your skin texture, and firmness and to reduce the appearance of large pores, stretch marks, and scars!
How Does RF Microneedling Work?
At Schlessinger Eye & Face, we offer two Microneedling devices, both paired with Radiofrequency. Treatment with RF Microneedling is designed to stimulate new growth of collagen and elastin, resulting in a plumper, more youthful appearance. Collagen is the protein responsible for providing the skin's structural support framework while Elastin makes the skin firm, yet pliable.
Secret RF is a Radio Frequency (RF) Microneedling device that effectively helps to rebuild and revitalize the skin. Using controlled RF energy, Secret RF delivers heat into deeper layers of the skin than most Microneedling devices. This targeted energy helps to firm up tissue, remodel collagen, improve mild wrinkles, and diminish scars. The Secret RF is perfect as a preventative treatment for our patients who are just starting to experience the aging process.
Morpheus8 is designed to target deeper layers of the skin using higher energy, triggering collagen production similar to the Secret RF. Treating deep layers of tissue makes Morpheus8 an excellent option for patients facing issues including deep acne scarring, fine lines and wrinkles, and mild skin laxity. Most patients will see an improvement in their overall skin tone and texture as well. Morpheus8 is the perfect treatment for our mature patients looking for a more youthful and rejuvenated look.
In addition to your treatment, we recommend our Alastin Nectar post-procedure serum specifically designed to complement your skin-rejuvenation procedure and protect your investment. Alastin employs Tri-Hex technology to support the production of new healthy elastin and collagen. This silky nectar contains a high level of antioxidants to calm the skin, promote healing and reduce recovery time.
Why Do I Need Collagen?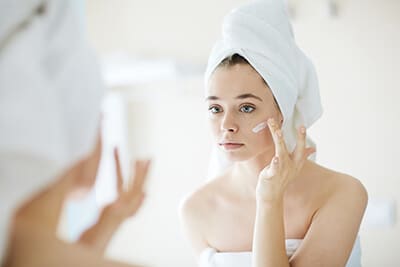 Collagen is key to healthy, vibrant skin and is plentiful when we are younger. You see lotions and other topical products with collagen in them, but to be truly effective the body needs to produce its own collagen in the dermis layer of the skin. Unfortunately, our collagen production declines as we age. In fact, after we turn 20, our collagen production drops by one additional percentage point every year — at 50 your body produces 30 percent less collagen. This is why the skin gradually appears to sag and droop, and wrinkles and lines form more easily.
What Skin Issues Does Microneedling Improve?
Microneedling can be applied virtually anywhere on the body; the face, neck, abdomen, and décolletage are the most common targets.
Some skin conditions we treat with Microneedling:
Acne scars
Large pores
Fine lines
Uneven texture
Stretch marks
Does The Microneedling Hurt?
Though it would seem that puncturing your skin hundreds of times would cause pain, it doesn't. We apply a topical numbing cream prior to your procedure and the needles used on our Microneedling pen are very thin. Patients equate the feeling of Microneedling as similar to light sandpaper being moved across the skin.
Actual Patient Reviews
"Dr. Schlessinger is very skilled and knowledgeable. Willling to answer all questions to create the most comfortable environment. Wonderful professional staff, clean and modern office. Would highly recommend to anyone."

Emery M.
"Dr. Schlessinger and staff are exceptional in their kindness and care! Being comfortable through my laser treatment and attention to detail was stellar! Dr. Schlessinger truly cares that his patients get excellent results and takes his time to assure that outcome. All the staff and nurses were so kind and pleasant!! I highly recommend Dr. Schlessinger!!"

Brenda M.
Who Would Be a Good Candidate For Microneedling?
Microneedling is a procedure that almost anyone can have. The hyperpigmentation issues that occur with other resurfacing procedures usually do not occur with Microneedling. Microneedling is effective for all skin types.
When Will I See Results and How Long Do They Last?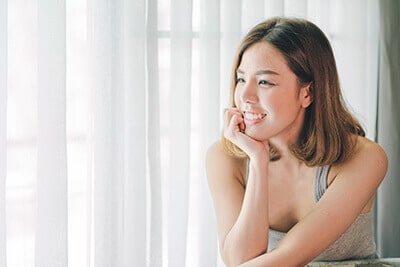 There is an immediate "glow" after your treatment session, but Microneedling results build over time. This is because your collagen and elastin production elevates for weeks, long after your visit to our office! Visible changes in the skin develop over the course of several days and weeks. Your results can continue to improve for up to six months.
How long your results will last varies from patient to patient; no two are alike. The new collagen and elastin we've created aren't going anywhere, but production will continue to drop with normal aging. That's why continuing treatments with the Schlesinger team is recommended as needed.
What Will I Look Like After My Microneedling Session?
Your skin will appear red and flushed after your Microneedling session; it will appear as if you have a mild sunburn. The degree of redness will correlate to the number of passes over the treatment area and the depth of the setting for the needle penetration. These factors are determined after your thorough consultation and skin analysis. This redness usually passes within 1-2 days. There may also be some slight swelling and your skin will feel tight for a day or so. It's optimal to schedule your session as an after-work procedure because, by the next morning, most of the redness will have passed. You don't have to restrict your activities at all after Microneedling.
Is Microneedling Safe?
Side effects are extremely rare with this procedure. There can be a very minute risk of infection, but this is highly unlikely as our environment is completely sterile, the surface of the skin is thoroughly cleaned and the punctures are topical and begin to close immediately.
How Often Can I Have Microneedling Done?
To allow the skin to fully heal and complete its collagen production increase, Microneedling can be done once every 4-6 weeks. At Schlessinger Eye & Face, we recommend at least three treatments for collagen building and 3-6 treatments to reduce and treat scarring.
Is There Anything I Need To Avoid After My Microneedling Session?
We ask that you discontinue the use of Retinols, Salicylic and Clycolic Acids, and any exfoliants or scrubs 5 days post-procedure.
Avoid sun and tanning beds.
Only apply Aquaphor or Alastin to the procedure site for 48 hours.
Our recommended medical-grade sunblock must be applied when going outside even for short periods of time including driving in your car after the first 48 hours post-treatment.
Use of unapproved products may result in damage to the treated areas and compromise your results. Following these protocols will help you to achieve optimal results from your treatment.
You will be scheduled for your subsequent treatments at 4-week intervals.
Is Microneedling an Alternative to the Gold MicroInfusion Facial?
The Gold MicroInfusion Facial has been growing in popularity. At Schlessinger Eye and Face, our Microneedling treatments are an excellent alternative to improve the appearance of your skin. We invite you to contact our office today to learn more about how Microneedling compares to the Gold MicroInfusion Facial.

For additional information about our services, call us at 516-496-2122 or click here to request a consultation.