FaceTite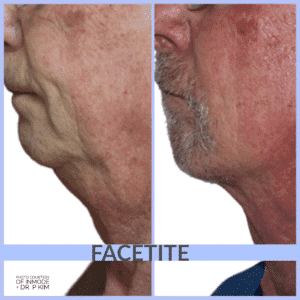 What is FaceTite?
FaceTite™ is a non-invasive device that targets and reduces fat and tightens the skin of the face, neck and jowls without surgery. It can yield transformative results with just one in-office treatment and is an excellent alternative to surgery for many appropriate candidates.
FaceTite is performed under local anesthesia and patients can return to normal activity within a few days. Zero to minimal bruising after procedure. Swelling for a few days. A face garment is required during the recovery period
Who is a Good Candidate for FaceTite?
Patients who have loose or sagging skin on their face and neck are the ideal candidates for a FaceTite treatment, which is safe for all skin types. This procedure works well for anyone who is experiencing signs of aging but does not wish to commit to the expense or extended recovery that comes along with a traditional facelift.
How Does FaceTite® Work?
Insertion of a cannula in areas of relaxed skin or with small fat deposits (such as the double chin or the jawline and jowls) allows Dr. Schlessinger to break down and break up fat using heat and simultaneous thermal skin retraction. The precise control of this technology allows the surgeon to target on a micro level. This advanced technology improves the operating duration and the carefully calibrated temperature results in a safe and highly effective patient experience.
Heat is distributed evenly over the entire treatment area and the thermal coagulation of blood vessels guarantees the patient can return to normal life faster than with other procedures such as the traditional facelift
What To Expect During FaceTite® Treatment
The technique consists of treatment under local anesthesia lasting 45 minutes with only three small pinholes, each 2 mm. This provides for the entry of a thin cannula that is precisely applied allowing the tissue to return to its original shape.
What Is Recovery Like After FaceTite®?
A return to normal life is a matter of a long weekend. The treatment, as mentioned previously, is performed under local anesthesia and the patient returns home after a couple of hours, without the need for hospitalization. In the following few days, patients receive a facial compression covering to reduce swelling and recovery time.
Initial results can be seen as the healing process begins (1-3 weeks). As the months pass, the optimal result is achieved in about 3-6 months.
FaceTite® Frequently Asked Questions

For additional information about our services, call us at 516-496-2122 or click here to request a consultation.