Kybella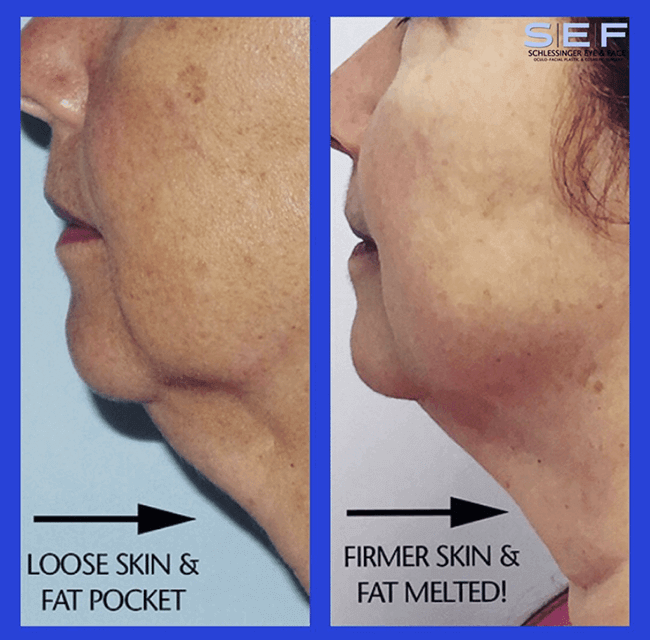 What is Kybella?
Did you ever wonder if you could get rid of your double chin without surgery?
Kybella treatment eliminates the double chin and neck fat without cutting or lasers. It works by melting the fat cells that prevent you from having a smooth neckline and profile, and it's FDA-approved.
Kybella® is an injection performed by Dr. Schlessinger and is done within minutes at his office in Woodbury, New York.
What is the Liquid Neck Lift?
A non-invasive, FDA-approved, focused ultrasound called Ultherapy may be suggested at the same time to firm the neck area after the fat is melted. The combination of Kybella® and Ultherapy, also known as the Liquid Neck Lift, is the ultimate non-surgical neck rejuvenation procedure that requires minimal downtime with noticeable improvement.
Liquid Neck Lift Compared with Surgery
At Schlessinger Eye and Face, we offer both non-surgical neck treatments and surgical neck lifts and neck liposuction. The decision to undergo a non-invasive neck lift versus a surgical procedure depends on your goals, the shape of your neck, and your evaluation with our experienced doctors. When you come in for your consultation and speak with our board-certified specialists, we will discuss all of your options including the Liquid Neck Lift and we will offer a treatment plan that works best for you.
Patient Testimonials
"Dr. Schlessinger and his office staff…extremely professional and accommodating to my needs. I would highly recommend him to my patients and family members!!"

Dr. Dianne Finkelstein
"I have been a patient of Dr. Schlessinger for a couple of years and trust his professional opinion. He is thorough and honest. His staff is respectful and helpful. I would definitely recommend his office!"

P.R.
Kybella Results
What Should I Expect After Kybella Treatment?
Within weeks, the area is smoother and sleeker.
How Many Kybella Treatments Are Recommended for Best Results?
Most people require 2-4 treatments for the best results.
Recovery After The Liquid Neck lift with Kybella
There are no physical restrictions after the treatment, but most people will experience some soreness and swelling for several days after the Liquid Neck Lift, performed in-office at Schlessinger Eye and Face on Long Island, NY.

For additional information about our services, call us at 516-496-2122 or click here to request a consultation with Dr. Schlessinger.